About "Celebratory Flowers" for "GACKT LAST SONGS 2021 feat. K"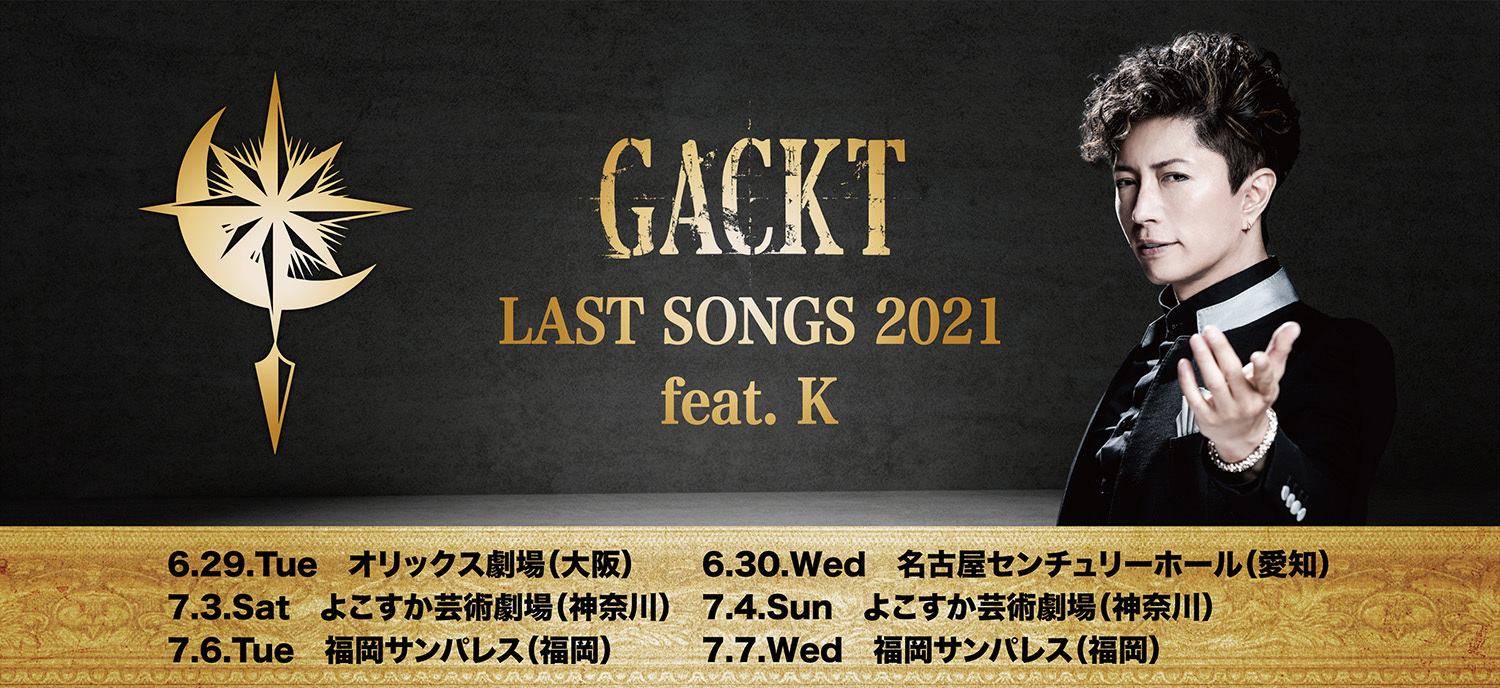 This is the information regarding "GACKT LAST SONGS 2021 feat. K" which will start in Osaka on June 29th, 2021.
If you wish to send flowers to GACKT and K, please schedule them to arrive at the venue by 9:00am to 12:00pm on the day of each show.
Items that arrive on the 1st day of the two-day event will remain up for 2 days.

* Due to the situation at the venue, even if your flowers will arrive earlier than the date of our event, we will not be able to receive them. Please make sure to specify the date and time when scheduling your flower delivery.
* Please pick up your flowers the day after each show. The specific dates and times are listed below as follows.
Please make the arrangements with your flower shop to pick up flowers during those times.
[Osaka] Orix Theater Collection Time: June 30th (Wed) 9:00am to 12:00pm
[Aichi] Nagoya Century Hall Collection Time: July 1st (Thu) 9:00am - 12:00pm
[Kanagawa] Yokosuka Arts Theater Collection Time: July 5 (Mon) 9:00am - 12:00pm
[Fukuoka] Fukuoka Sun Palace Hotel & Hall Collection Time: July 8th (Thu), 9:00am - 12:00pm

If your flowers arrive outside the designated time period, the organizer has the right not to display them.
Please note that depending on the number and condition of the fresh flowers, staff may choose to remove your flowers at their own discretion even if the deadline has been met.
* We cannot accept requests regarding the place to display your flowers, the lineup, etc. The organizer will make that decision.
* Please refrain from sending decorative flowers that require construction.
* Deliveries via the post office will not be possible even if they can be picked up. Please note that we will refuse to receive flowers delivered by the post office.
* Customers are not allowed to bring their own flowers or set them up to display at the venue. Please note that even if you bring your flowers, they won't be displayed. Please be sure to use a flower shop or artificial flower shop to make your deliveries.
* Please note that staff has the right to remove the over-decorated flowers that clearly require a lot more space at their own discretion.