Notice Regarding Advance Ticket Reservations for "GACKT LAST SONGS 2021 feat. K"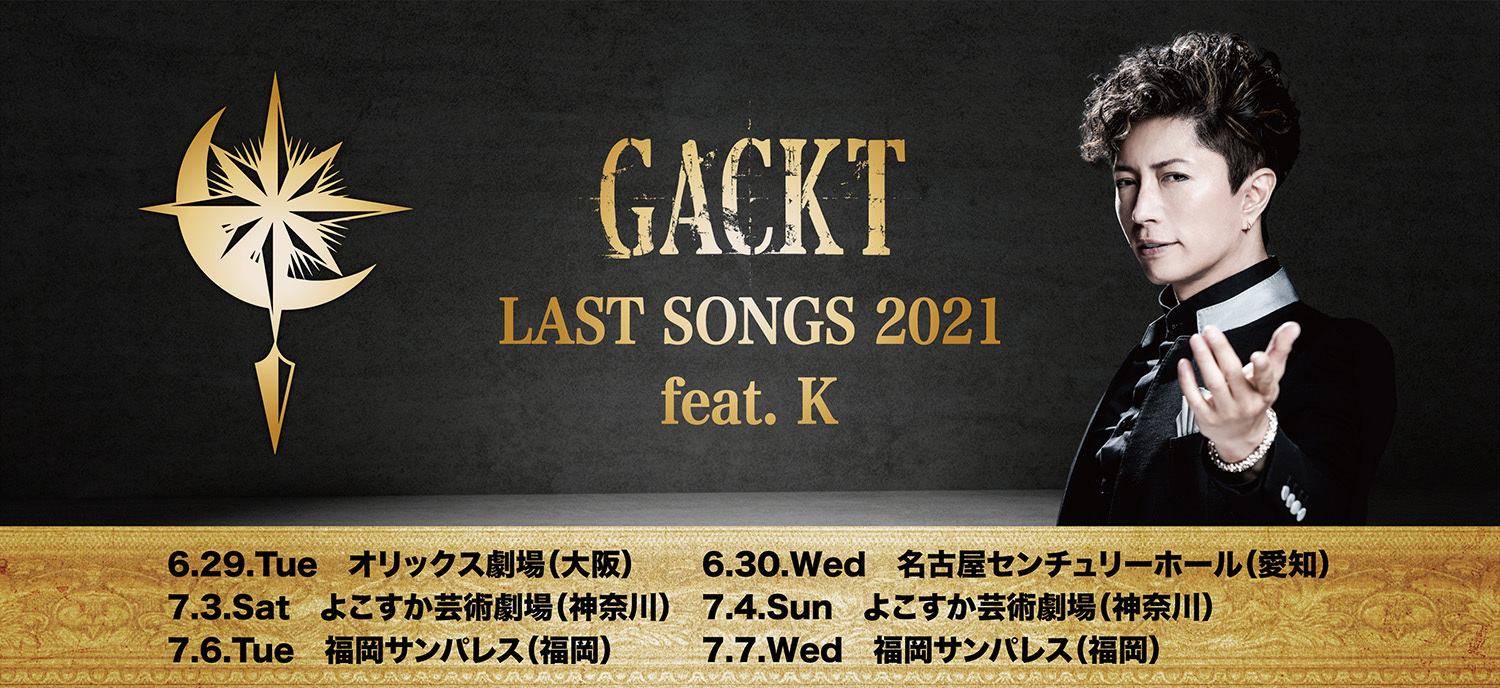 Regarding the nationwide tour "GACKT LAST SONGS 2021 feat. K" that will be held at the end of this month, anyone can apply for the 2nd round of the fanclub "G&LOVERS" and NicoNico Live broadcast channel "Drinking at Home with GACKT!!". We will start accepting official site reservations and GACKT SNS reservations starting at 12:00 noon on Tuesday, June 1st.
Don't miss the gem ballad concert, featuring K on piano and vocals, ranging from popular songs to unexpected numbers!
---------------------------------
■ Fanclub "G&LOVERS" 2nd Round
https://g-and-lovers.com/
■ NicoNico Live Channel "Drinking at Home with GACKT!!"
https://ch.nicovideo.jp/gackt
■ Official Site Reservations
https://ticket.tickebo.jp/gackt-os/
---------------------------------
Reservation Period: June 1st (Tue) 12:00pm (JST)!to June 4th (Fri) 11:59pm (JST)
Ticket Types: Diamond Reserved Seat 60,000yen (tax in)
Platinum Reserved Seat 30,000yen (tax in)
General Reserved Seat 10,000yen (tax in)
Up to 4 tickets per show per person
* Only for Fukuoka performances, Diamond Reserved Seats and Platinum Reserved Seats are limited to 1 per person and General Reserved Seats are limited to 2 per person.
----------------------------------------------------------------------------------
GACKT LAST SONGS 2021 feat. K
<Time and Place>
Year 2021
June 29 (Tue) [Osaka] Orix Theater OPEN 6:15pm/ START 7:00pm
June 30 (Wed) [Aichi] Nagoya Century Hall OPEN 6:15pm/ START 7:00pm
July 3rd (Sat) [Kanagawa] Yokosuka Arts Theater OPEN 6:15pm/ START 7:00pm
July 4th (Sun) [Kanagawa] Yokosuka Arts Theater OPEN 6:15pm/ START 7:00pm
July 6th (Tue) [Fukuoka] Fukuoka Sun Palace Hotel & Hall OPEN 6:15pm/ START 7:00pm
July 7th (Wed) [Fukuoka] Fukuoka Sun Palace Hotel & Hall OPEN 6:15pm/ START 7:00pm
<Price>
● Diamond Reserved Seat 60,000yen
* Seats are located within the 10th row from the front
* Diamond reserved seat Limited Gift included
* Opportunity to participate in after-show events included
● Platinum Reserved Seat 30,000yen
* Seats are located in front center of the 1st floor seats
* Platinum reserved seat Limited Gift included

● Reserved Seat 10,000yen
<Ticket Sales Date>
General = June 19th (Sat)
<For Inquiries>
[Osaka] Sogo Osaka TEL: 06-6344-3326 Weekdays 11:00am - 7:00pm (Saturdays, Sundays, and holidays)
[Aichi] Kyodo Tokai TEL: 052-972-7466 Mon-Sat 10:00am - 7:00pm (Sundays/ holidays)
[Kanagawa] Sogo Tokyo TEL 03-3405-9999 Mon-Sat 12:00pm -1:00pm / 4:00pm - 7:00pm (Sundays and holidays)
[Fukuoka] BEA TEL: 092-712-4221 Weekdays 11:00am - 6:00pm / 2nd and 4th Saturdays 11:00am - 3:00pm
----------------------------------------------------------------------------------
■ Please make sure you read and understand the following precautions before applying for FC advance ticket reservations.

* On this tour, based on the government's restrictions on holding events in regards to the new coronavirus, we will make decisions based on rules according to the corona situation in each region and thus the predetermined number of seats to be sold.
* The new Coronavirus Contact Confirmation App (COCOA) is required to be installed on your smartphones in order to he admitted to the show.
* We will need to confirm the installation of the new Coronavirus Contact Confirmation App (COCOA), check your temperature, and disinfect your hands before entering the venue.
* Note that if you purchase multiple tickets, it may NOT be possible to prepare seats with consecutive serial numbers.
* Refunds will not be issued for any reason (personal illness or etc) except when performance is canceled.
* On the day of the concert, you should measure your temperature at home before going out. Your temperature must be less than 37.5 degrees. (We will also measure your temperature with a non-contact thermometer at the time of admission)
* Masks are required on the day of the event.
* Please consider your physical condition and environment before purchasing a ticket. Make a careful decision.
----------------------------------------------------------------------------------
* We may need to verify your identity on the day of the concert.
* Tickets are required for children ages 3 and up. No admission for children under 3 years of age.
* If you wish to use a wheelchair, please be sure to contact us at "Contact Information" from the time the ticket arrives till the day before the show.
* There is a possibility that members of the press and related parties will be taking photos or videos on the day of the event. Please note that those videos and photos that include the audience seats, may be released/ published.

Organizer: Decorations
Production: LIVE EXSAM
Cooperation: Glab Entertainment

For General Inquiries: LIVE EXSAM TEL: 03-5575-5170 (Monday, Tuesday 1:00pm - 5:00pm)