New Tour Member Audition Announcement!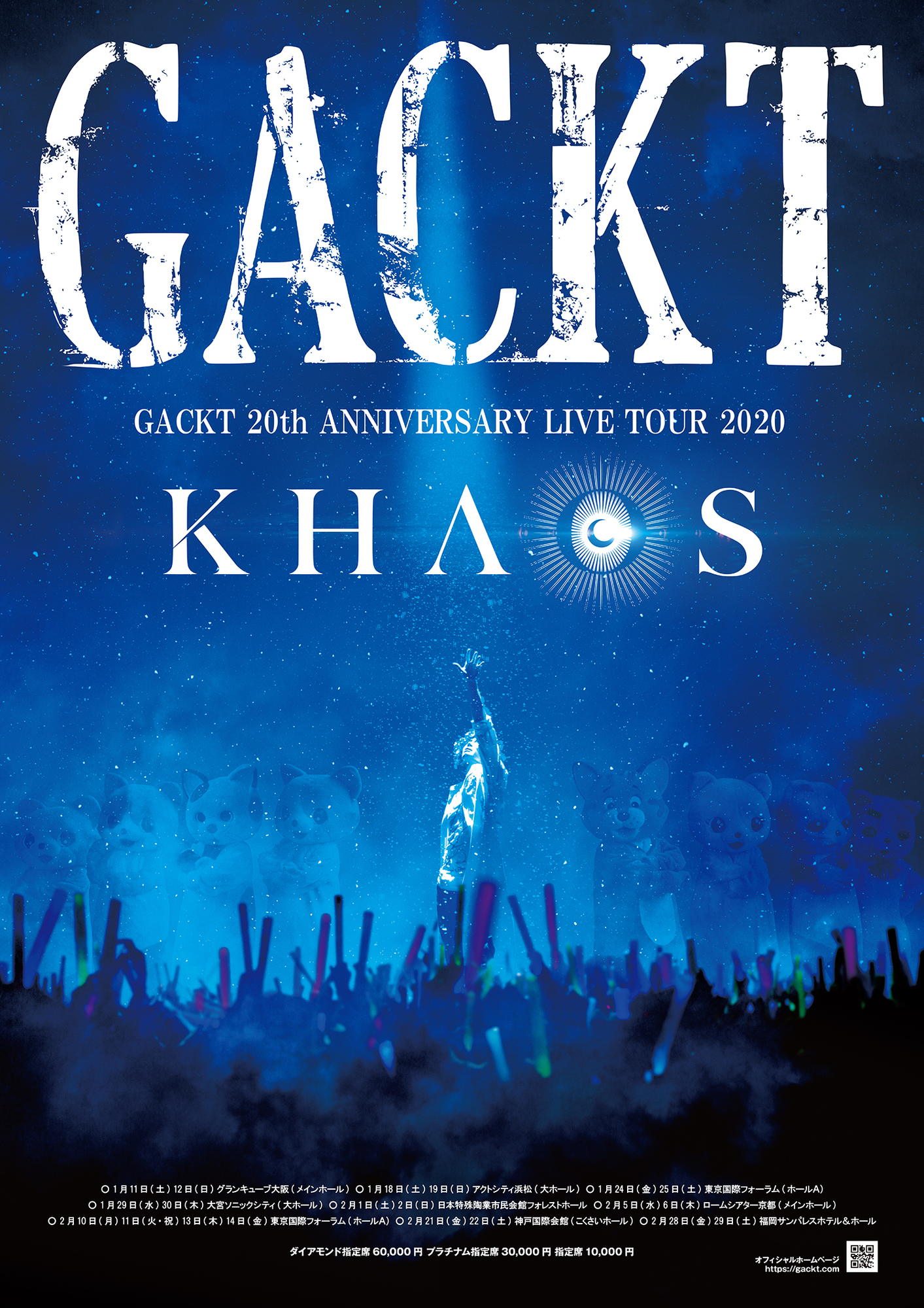 GACKT, who has been active since his solo debut 20 years ago, for the first time in 4 years will hold a nationwide tour "KHAOS" starting in January 2020.
He is looking for a new band members to join this tour.
Experience isn't required, what we are looking for are people with skills and personality.
[Recruitment Positions]
・ Guitar ・ Bass ・ Drums
[Requirements]
・Players must be over 18 years old. Gender and nationality do not matter.
・ Contract with a production company or any other company is not required.
・ Players who can stay & work in Tokyo after passing the audition (No moving or living expenses will be provided)
・ Rehearsals start in November 2019. Be able to free your schedule for 2020.
* If you have a contract with an agency, please consult them first.
・ Minors require parental consent.
【How To 】
◯ Please apply via email.
Please send in "Requirements" and "Video" to the following e-mail address with the subject line "GACKT Band Member Application".
This is a Video Audition. Please note, even if you send in an audio file or any other file format it will NOT be reviewed.
<Requirements>
・ Name (with pronunciation/ furigana)
・ Age, date of birth, address, email address & phone number
・ Desired Position
・ Your web page such as social network page
・ Guardian's name and contact information (for minors)
・The video URL of you playing a music instrument. Please select one of the assigned music pieces to perform on video.
* Please refrain from sending audio files, as the auditions will be conducted via video.
[If you have musical career history, please include the following]
・Stage Name
・Music Career Details
[Contact Information] gackt.audition2020@gmail.com

[Application period]
Until September 23rd (Mon) 11:59pm (JST)
[How it Works]
Primary selection = email/ video review
* Only those who passed will be contacted by September 30th (Mon).
↓ Secondary selection = Practical skills and an interview with GACKT
■ Content: Interview and Music instrument performance
■ Place: Tokyo studio
■ Date: ① October 12th (Sat) (Time TBA)
② October 22nd (Tue) (Time TBA)
* Please free your schedule on both days.
[Assigned Songs]
"FLOWER" (2009, 34th single)
"UNTIL THE LAST DAY" (2012, 41st single)
"Tsumi No Keishou -Original Sin-" (2017, 48th single)
《Memo》
・ Send in 1 of the 3 music performance videos.
・ No musical score provided. Please make your own copy.
・ As for phrases and etc, there is no need to copy them exactly, you can use your own arrangements.
・ There is no specifications for the arrangement of guitar leads, rhythms, etc.
Please play them the way you like.
As for the solo part however, you are required to play it.
[Please Note]
・ Inquiries regarding pass / fail will not be accepted.
・ Transportation expenses will not be reimbursed.
[Regarding Personal Information]
Personal information inquired at the time of audition will not be used for any purposes other than those stated above.
In the unlikely event that it is used for any purposes other than stated, or when something changes, we will notify you in advance.
Inquiries: Zepp Live TEL: 03-5575-5170 (Weekdays 1:00pm - 5:00pm (JST))