The 35th episode of "OH!! MY!! GACKT!!" is scheduled to air!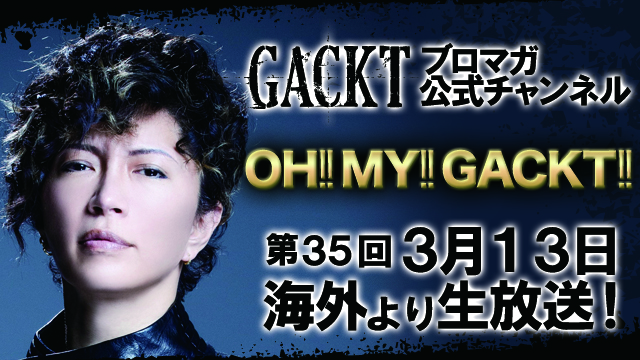 Of course, it will be aired live as usual!
GACKT will be talking about what's been happening in his life lately and answering your questions for the total of 90 minutes!
Please send your questions or inquiries to GACKT via the email address below.
qa@gackchan.com
Required:
・Name (or nickname )
・Questions or inquiries
Line-up:
GACKT
TAKUMI
Other
▼Live Broadcast Schedule
March 13th (Wed) 6pm - 7:30pm (JST)
Broadcast URL:
https://live.nicovideo.jp/gate/lv318915244
※This program will only be available to GACKT's Blog Magazine subscribers.
※ Broadcast schedule may subject to change due to internet connection stability and etc of the broadcast.
※ Broadcast length may deviate from the original 90 minutes.
※ 【niconico】PAID programming service for GACKT official channel 【OH !! MY !! GACKT !!】is tailored for users currently residing in Japan.
Although it's possible to sign up and watch it from overseas, there is no overseas online support, the payment is processed in Japanese yen only in accordance with the Japanese law. So if you decide to sign up from outside of Japan, be aware that if any troubles occur we will not be able to assist or take responsibility. Sign up at your own risk.