It's on - the fourth public recording event for "GACKT no Shakuhachi Bun De Ikou" is set!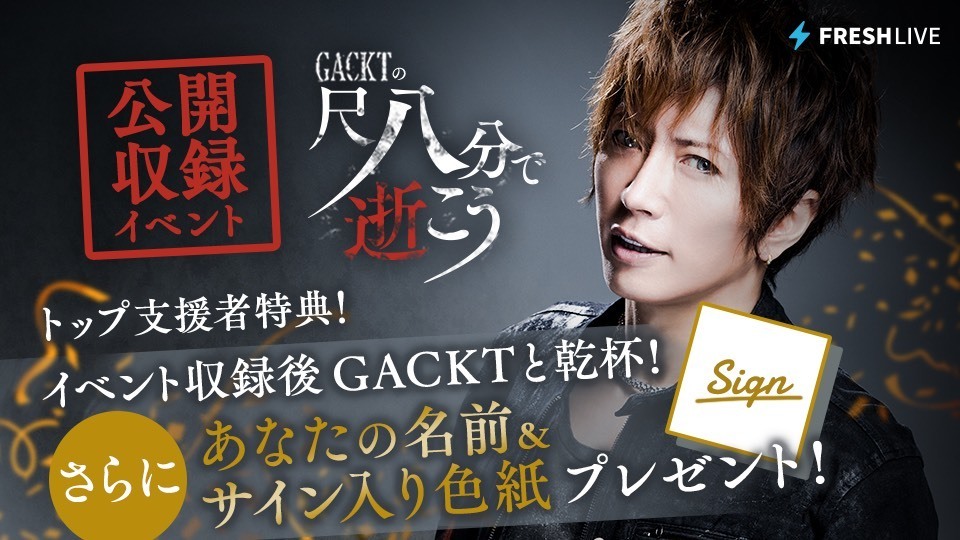 The fourth public recording for "GACKT no Shakuhachi Bun De Ikou" will be broadcast on the live streaming platform FRESH LIVE.
The first 300 paid members of GACKT's official channel on FRESH LIVE that contribute MP (Magnum Points) to this event project will be invited to take part onsite in the public recording event.
The Top 5 MP contributors among the supporters participating in the event will be given the highest priority entry as well as the opportunity for a Meet & Greet with GACKT.

<Special Page>
https://freshlive.tv/projects/a8TBg

<Event Overview>
Date: 25 November, 2018 (Sunday)
Start: 18:30
End: 19:50
Venue: Japan・Tokyo BENOA Ginza B3F
Seats: Standing only

<On Stage>
GACKT
TAKUMI (Sound Producer)

※FRESH LIVE and this event are a service designed for users within Japan.
While it is possible to watch and apply from overseas, there is no Japanese support, and transactions are limited to Japanese Yen in accordance with the law of domestic services; as we are unable to respond to any trouble that may occur in connection with applications, contributions, or other participation from overseas, if you wish to take part from outside Japan, we ask that you do so at your own risk.