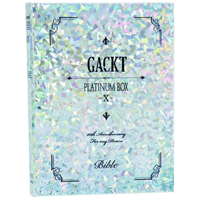 PLATINUM BOX X【DEARS限定盤】
2009/12/24|DSDV-00012|6,800円 (tax in)
◆Now, GACKTravel for the Second Grade !! Kamui Gaguen members now going oversea?? And again, GACKT and You going for DART trip. This year, the gift is GACKT Sugoroku!! Let&apos's Journey through GACKT's entire trajectory.
◆ Special Package Specification Size 220 x 170 x 37 mm
◆ GACKT Sugoroku: material/paper, size/ 600 x 540 mm, with a special dice, and pieces.