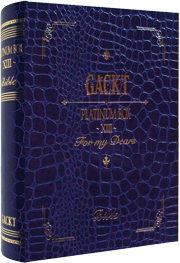 PLATINUM BOX XIII [DVD]
2013/11/8|DSDV-00040|7,429円+tax
For the first time, the fan club event of "Gakuen Festival" which started in 2009 will be releasing a video.
This school festival is created by GACKT under the concept "Play serious! All set by GACKT", and all participants dress code is school uniform!
This is the tour you can't find anywhere else, so enjoy special contents made just for this tour, such as, School Ceremony, Keion club (to show the cover songs), Drama club, Dance club, and more.
Also, there is some unreleased footage included! If you see this, you can enjoy more of "Kamui♂Gakuen"!