The 4th Episode Broadcast Date of "OH!! MY!! GACKT!!" is Set!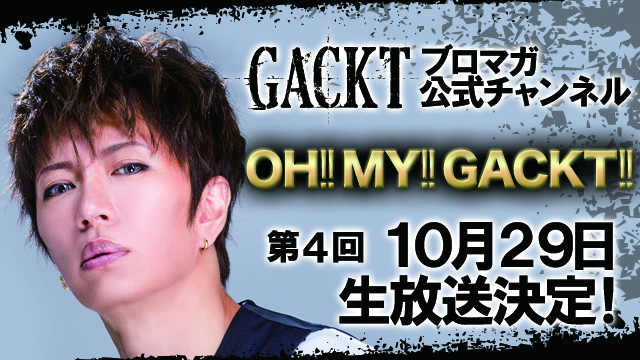 The 4th episode broadcast will be held in Japan!
Including the big reveal - the secret story behind GACKT's newest single release "Kimi Dake No Boku De Iru Kara"! Don't miss it!
Also! GACKT will be answering all your questions!
For those who want to consult with GACKT!!
Please send your questions or inquiries to GACKT via the email address below!!!!!
qa@gackchan.com
Required:
・Name (or nickname )
・Questions or inquiries
Cast:
GACKT
TAKUMI
VAL
▼Broadcast Schedule
October 29th (Sat) 6:00pm - 7:00pm LIVE
Broadcast URL: http://live.nicovideo.jp/watch/lv279909596
※This program is only available to GACKT Blog Magazine subscribers.
※The broadcast date might change depending on the internet conditions overseas.
※ Broadcast time might be shorter or longer than 60 minutes.