The 3rd episode of GACKT's NicoNico channel, "OH!! MY!! GACKT!!", is scheduled for broadcast!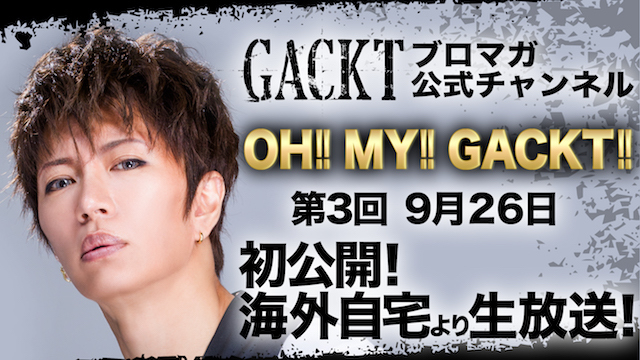 The NicoNico channel for GACKT's Blog Magazine is back and all new!
This time GACKT will be answering all your questions from his home abroad for the very first time!!
For those who want to consult with GACKT!!
Please send your questions or inquiries to GACKT via the email address below!!!!!
qa@gackchan.com
Required:
・Name (or nickname )
・Questions or inquiries
By the way!
GACKT will make a guest appearance on Yamada Hisashi's "Yamada Hisashi no Yama-channel" at 7:20pm! Make sure to check it out too!!
Broadcast URL:
http://live.nicovideo.jp/watch/lv276398971
Cast:
GACKT
TAKUMI
Guest:
Yamada Hisashi

▼Broadcast Schedule
September 26th(Mon) 8:00pm - 9:00pm LIVE
Broadcast URL: http://live.nicovideo.jp/watch/lv276319526
※This program is only available to GACKT Blog Magazine subscribers.
※The broadcast date might change depending on the internet conditions overseas.
※Broadcast time might be shorter or longer than 60 minutes.