GACKT LAST SONGS 2023 feat. K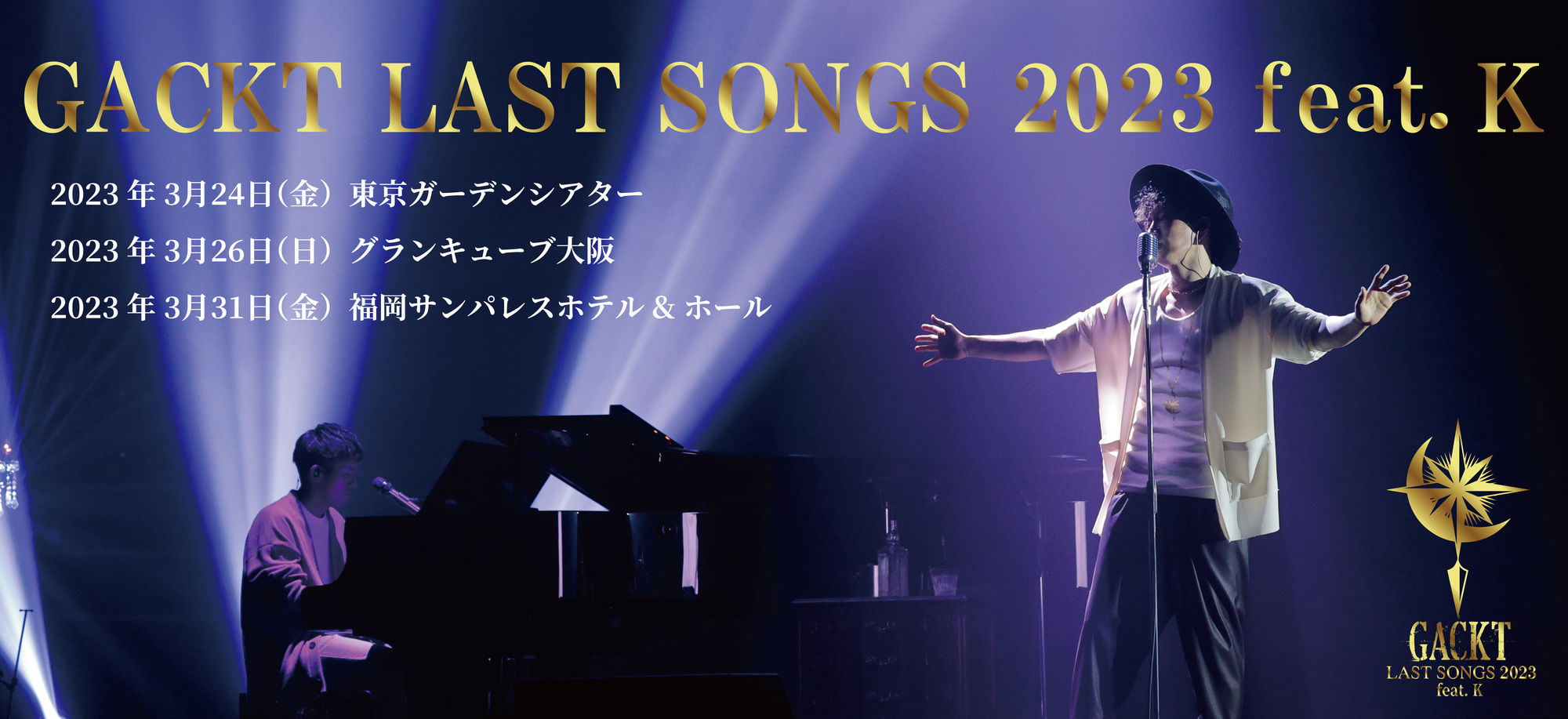 GACKT's voice will return in March of 2023.
The tour will feature ballads and medium tempo songs for
"LAST SONGS 2023 feat. K"
Coming to Tokyo, Osaka and Fukuoka!

It's been about a year since GACKT has announced suspension of all his activities on November 8th, 2021. We've got news that GACKT will make his musical comeback with full force, through all his activities, such as live-streaming events and new music videos.
We plan to announce every step of his comeback, but first we would like to announce his tour in Tokyo, Osaka, and Fukuoka for "LAST SONGS 2023 feat. K" as an introduction to his upcoming musical activities.
This nationwide tour will continue as it has for "LAST SONGS 2021 feat. K", starting out with three locations. Singer and songwriter K will join GACKT on the piano and vocals for all the performances. String instruments will be added to the set list consisting of ballads and medium tempo songs that were quite popular throughout GACKT's career.
All the melodies for the songs will be performed live on stage without any digital tracks whatsoever. These breathtaking shows will be accompanied by stage performers matching GACKT's pace, weaving every melody into a story. Every performance will have a completely unique atmosphere.
The conversations during the breaks between the songs will be random, improvised and never the same. GACKT and K have incredible chemistry and can discuss all kinds of fun topics, contrasting with their musical performances so much that the audience bursts with laughter each time.
Though this tour first became possible because of GACKT's desire to have a great time through people enjoying high quality music in a relaxed, seated atmosphere, even during COVID-19 pandemic, GACKT and K are so excited to do it once again, since the last one was almost two years ago.
Priority Tickets will be available soon!
Following the G&LOVERS in the GACKT ONLINE G&L MEMBERS CLUB, if you join as a new member, you can immediately apply for Priority tickets!
https://gackt-online.bitfan.id/
Also, for the first time ever, we are adding in an Exclusive Exchange Ticket Service on GACKT ONLINE G&L MEMBERS CLUB!
It's a service that makes it possible to change the venue of your show (same seat type) without extra charge, for priority tickets purchased on G&L ONLINE.
"I bought tickets for the Tokyo show, but I'd rather go to the Osaka show!"
Use this service in a situation like the one above.
If the venue you wish to visit changes, the venue for all tickets purchased at the same time will change.
Details will be announced at a later date.
For information on how to apply, please check G-EVENTS on GACKT ONLINE G&L MEMBERS CLUB
【Concert Information】
GACKT LAST SONGS 2023 feat. K
■Schedule・Location
Tokyo Garden Theater on March 24th, 2023 (Fri)
Gran Cube Osaka on March 26th, 2023 (Sun)
Fukuoka Sun Palace Hotel & Hall on March 31st, 2023 (Fri)
■Times
Doors Open: 18:00 / Showtime: 19:00
■Performers
GACKT/K
■Prices
Diamond Reserved Seat 60,000yen
●Guaranteed Seat within 10 rows from the front
●Exclusive present included with Diamond Reserved Seat
●Meet and Greet with GACKT and K post-show (Photos included)
Platinum Reserved Seat 30,000 Yen
●Guaranteed Seat on the 1st floor front center
●Exclusive present included for Platinum Reserved Seats
Reserved seats 10,000 yen
●Exclusive present included for reserved seats
■ GACKT ONLINE G&L MEMBERS CLUB Member Priority Tickets
Reservations: November 5th, 2022 (Sat) at 12:00pm(JST) ~ November 13th, 2022 (Sun) till 11:59pm(JST)
Lottery Winner Announcement: November 18th, 2022 (Fri) Planned for 8:00pm(JST)
https://gackt-online.bitfan.id/
■For Concert Inquiries
<Tokyo>Sogo Tokyo 03-3405-9999 ※Mondays to Saturdays 12:00pm ~1:00pm/4:00pm~7:00pm (Closed Sundays and Holidays)
<Osaka> Sogo Osaka 06-6344-3326 ※Weekdays 2:00pm ~4:00pm (Closed Weekends and Holidays)
<Fukuoka> BEA 092-712-4221 ※Weekdays 12:00pm~5:00pm (Closed Weekends and Holidays)