The 2nd Episode of "OH!! MY!! GACKT!!" Has Been Scheduled!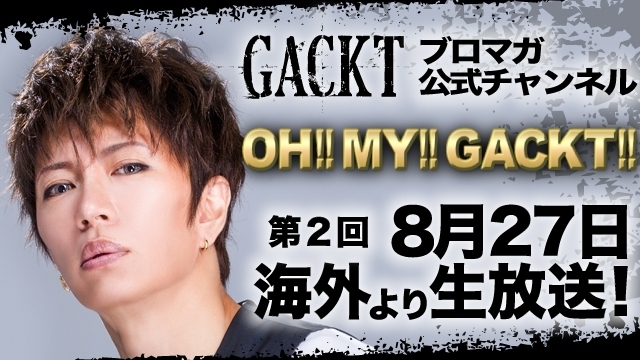 The NicoNico channel for GACKT's Blog Magazine is back!
And it has been upgraded!!
The 2nd episode will be broadcasted live from overseas!
GACKT will be answering your questions for a total of 60 minutes!
Please send your questions or inquiries to GACKT via the email address below.
qa@gackchan.com
Required:
・Name (or nickname )
・Questions or inquiries
Cast:
GACKT
TAKUMI
Others
▼Broadcast Schedule
8/27(Sat) 7:00pm - 8:00pm (live broadcast)

※This program will only be available to GACKT's Blog Magazine subscribers.
※Due to the possibility of unstable connection overseas, the broadcast schedule is subject to change.
※The original 60-minute length of this broadcast is also subject to change.