"GACKT LAST SONGS 2021 feat. K" Blu-ray & DVD Available for Purchase!!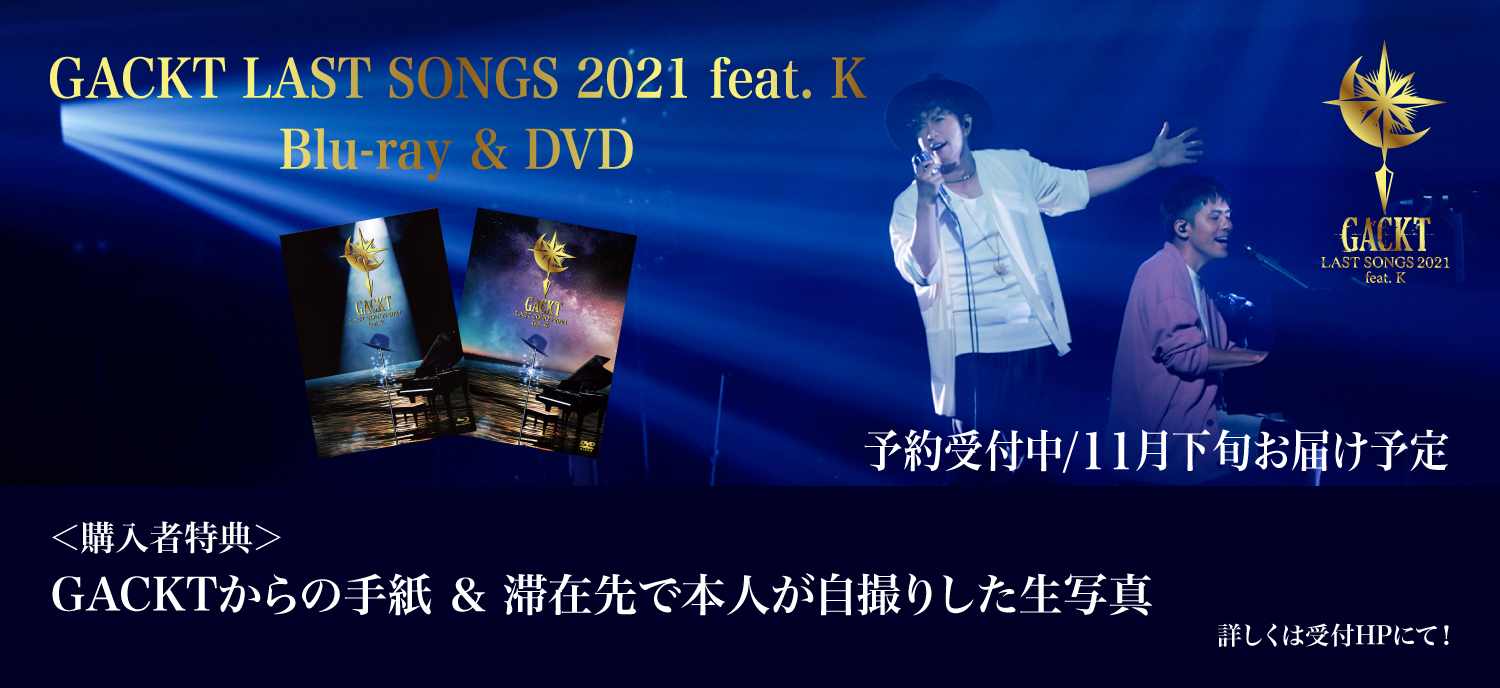 The July 4th birthday concert from the premium tour "GACKT LAST SONGS 2021 feat. K", where GACKT welcomed K on piano & vocals, accompanied by strings, is scheduled for release on Blu-ray & DVD!

Included with the release is the birthday performance at the Yokosuka Arts Theater in Kanagawa on July 4th, as well as an exclusive interview.
As a bonus video footage, a carefully-selected compilation of GACKT's best "unscripted MCs" with K, creating an atmosphere so different than that of the actual shows, is an absolute must-see!
And, as an additional bonus, Music CD of the show is also included with this release!
Also, there is another special purchase bonus, a letter from GACKT himself, who has been on indefinite hiatus since September, describing the feelings he put into this tour, and his selfie (photo) at his present location!
During these GACKT-less days, let's rekindle each and every memory he left behind!

■GACKT OFFICIAL GOODS STORE
https://official-goods-store.jp/gackt/

■ Product Details
GACKT LAST SONGS 2021 feat. K Blu-ray
GACKT LAST SONGS 2021 feat. K DVD

【Product Price】
Blu-ray & CD: 9800yen (tax in)
DVD & CD: 8200yen (tax in)

【Purchase Bonus】
(1) A letter from GACKT about this tour and all the feelings he wanted to convey to his fans.
(2) His selfie (photo) at his present location.
* The name provided by the customer will be the name it will be addressed to.

【Order Period】
October 15th (Fri) 6:00pm (JST) to November 1st (Mon) 11:59pm (JST)
* Please note that the order period is subject to change without any prior notice.
* Product shipment will start at the end of November.