Introducing the 2nd Round of "G69 SERIES", Hoodie and Rash Guard at GACKT MALL!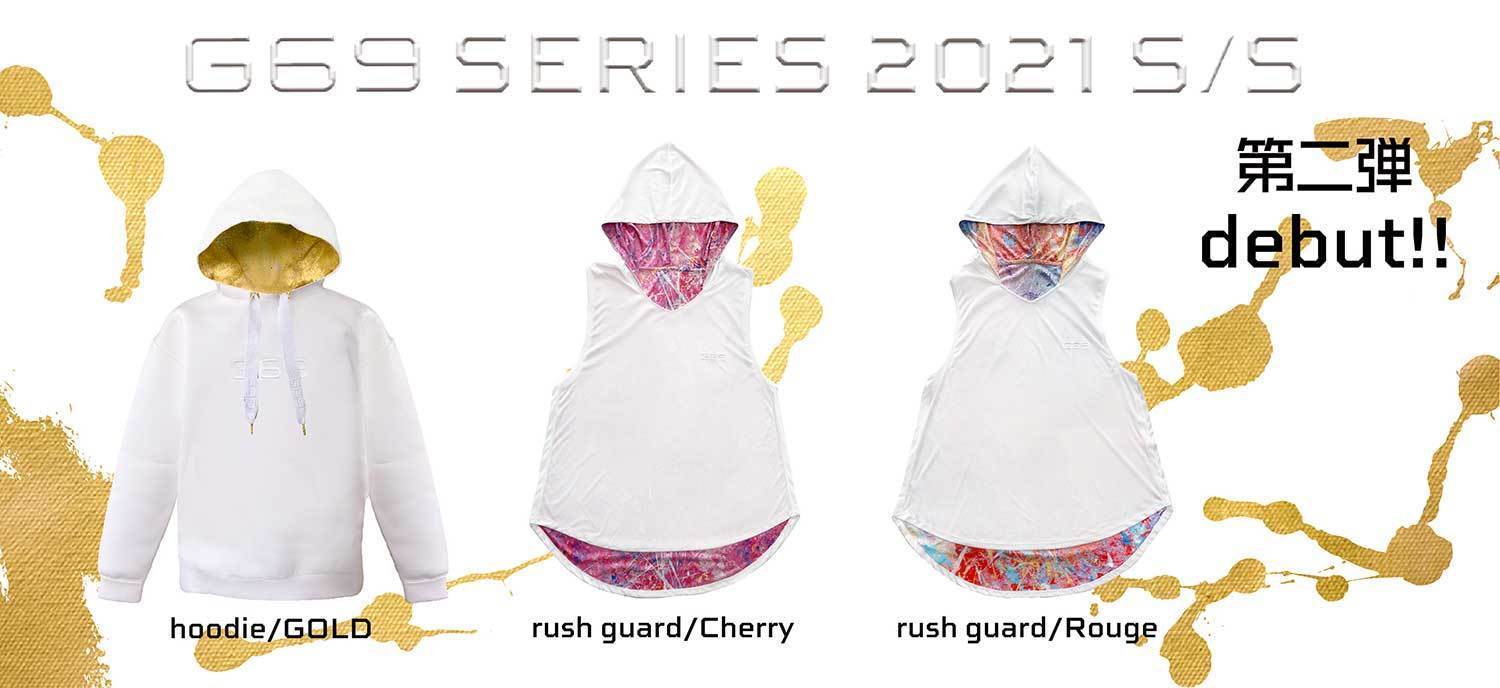 The 2nd round of "G69 SERIES" includes a new hoodie color and a new item, rash guard, that is perfect for summer!
The 2nd hoodie has a simple yet strong three-dimensional LOGO and the inside of the hood is lined with GOLD foil that adds that final elegant finish!
Upon multiple requests, the product is now available in S size as well!!

And, the rash guard that colors in the summer is here!
Yuri Maruyama's work is dynamically printed on the inside.
The fabric is light and has a unique pattern that looks cute at a glance.
There is also a G69 three-dimensional logo printed on the front!

Product samples will be exhibited at all venues of "GACKT LAST SONGS 2021 feat. K" Tour!
Please feel free to drop by and check 'em out!

■□■GACKT MALL Information■□■
GACKT MALL
https://official-goods-store.jp/gacktmall/

Available starting June 29th, 6:00pm (JST)

【 G69 SERIES 2021 S/S 】

◾️ hoodie
・GOLD
S: Length: 63 / Width: 55 / Shoulder Width: 54 / Sleeve Length: 59cm
M: Length: 66 / Width: 59 / Shoulder Width: 57 / Sleeve Length: 62cm
L: Length: 69 / Width: 63 / Shoulder Width: 60 / Sleeve Length: 65cm

【Price】
General Public: 22000yen (Tax in)
FC members: 19000yen (Tax in)

◾️ Rash guard (rash guard)
・Cherry / Rouge
M: Length (Front): 72 / Length (Back): 81 / Width: 52 / Shoulder Width: 39cm
L: Length (Front): 74 / Length (Back): 83 / Width: 55 / Shoulder Width: 41cm

【Price】
General Public: 11800yen (Tax in)
FC Members: 9800yen (Tax in)
At GACKT MALL, fan club members can purchase products at a special members price. In addition to a special members price, we are planning to introduce special bonuses for fan club members in the future, so if you haven't joined the fan club yet, now is your chance!

【Get your GACKT OFFICIAL FAN CLUB『G&LOVERS』Membership Below】
https://g-and-lovers.com/signup