Regarding the "GACKT LAST SONGS 2021 feat. K" Set List and the Benefits that Come with Reserved Diamond Seats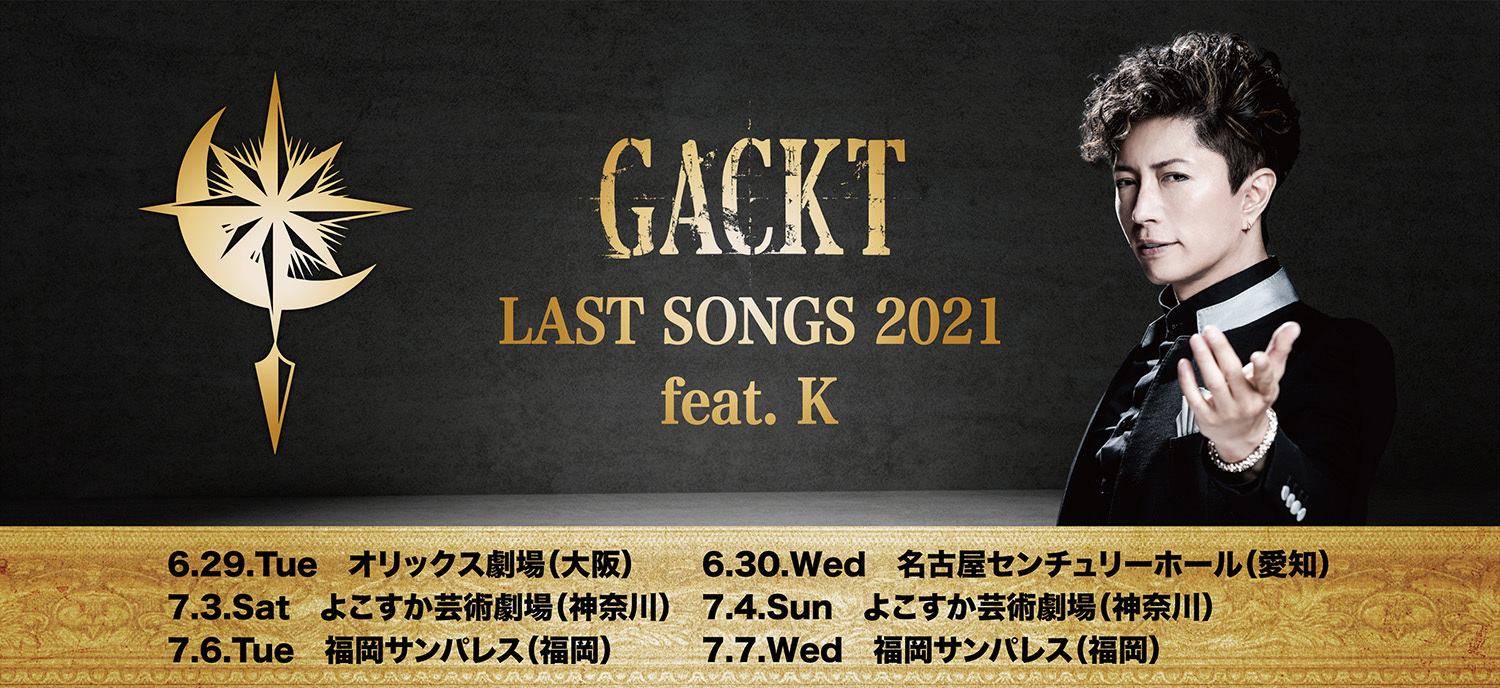 This is the information regarding the set list of "GACKT LAST SONGS 2021 feat. K" and the benefits of purchasing Reserved Diamond Seats.
Please read all the details below carefully.
■ Regarding the "GACKT LAST SONGS 2021 feat. K" Set List:
As the rehearsal progressed, the list of songs that we originally planned to perform "daily" started to grow and turned into a list of songs to be enjoyed by all. We decided to include all the songs we prepared for all the shows into one set list.
Since the expression of the popular songs changes each time as the interaction between the venue, musicians and the fans changes, even if the set list is the same, there will never be the performance will never be the same again.
With plenty of MC time, we hope that you will be able to enjoy the show to the max! Tour is about to kick off! We'll see you there!
■ Regarding the Benefits of "Diamond Reserved Seats":
"GACKT LAST SONGS 2021 feat. K" tour will finally kick off on June 29th (Tue) at the Orix Theater in Osaka. We would like to tell you about the special benefits of VIP area "Diamond Reserved Seats" that are guaranteed to be within the 10th row up front. At the time of admission at the venue, there will be a separate priority lane for Diamond Reserved seating.
※ Followed by Platinum Reserved Seat holders and then Reserved Seat Holders.
In addition, Diamond Reserved Seat holders and Platinum Reserve Seat holders will receive different types of special bonus merchandise.
In addition, Diamond Reserved Seat holders will be directed by staff to stay in their seats after the show to be then guided to have their commemorative photo taken with GACKT and K.
Please join GACKT and K for this extravagant moment!
* The group shoot will take place after all the appropriate infection prevention measures are taken, so please follow the staff's instructions and cooperate.
<Seat Upgrade Notice>
If you have already purchased Platinum Reserved Seats / Reserved Seats but would like to upgrade to Diamond Reserved Seats, although the number of seats is limited for each show, applications will be accepted at the venue.
・ Depending on the venue, the seat upgrades may not be available. We will inform you about each show.
・ Even if you wish to upgrade multiple tickets, we may not be able to provide you with the serial numbers.
・ Registration will be closed as soon as there are no more seats available at each venue.
See "GACKT LAST SONGS 2021 feat. K" Tour Details Below: