GACKT Chalk Art will be Exhibited at Art Fair Tokyo 2021!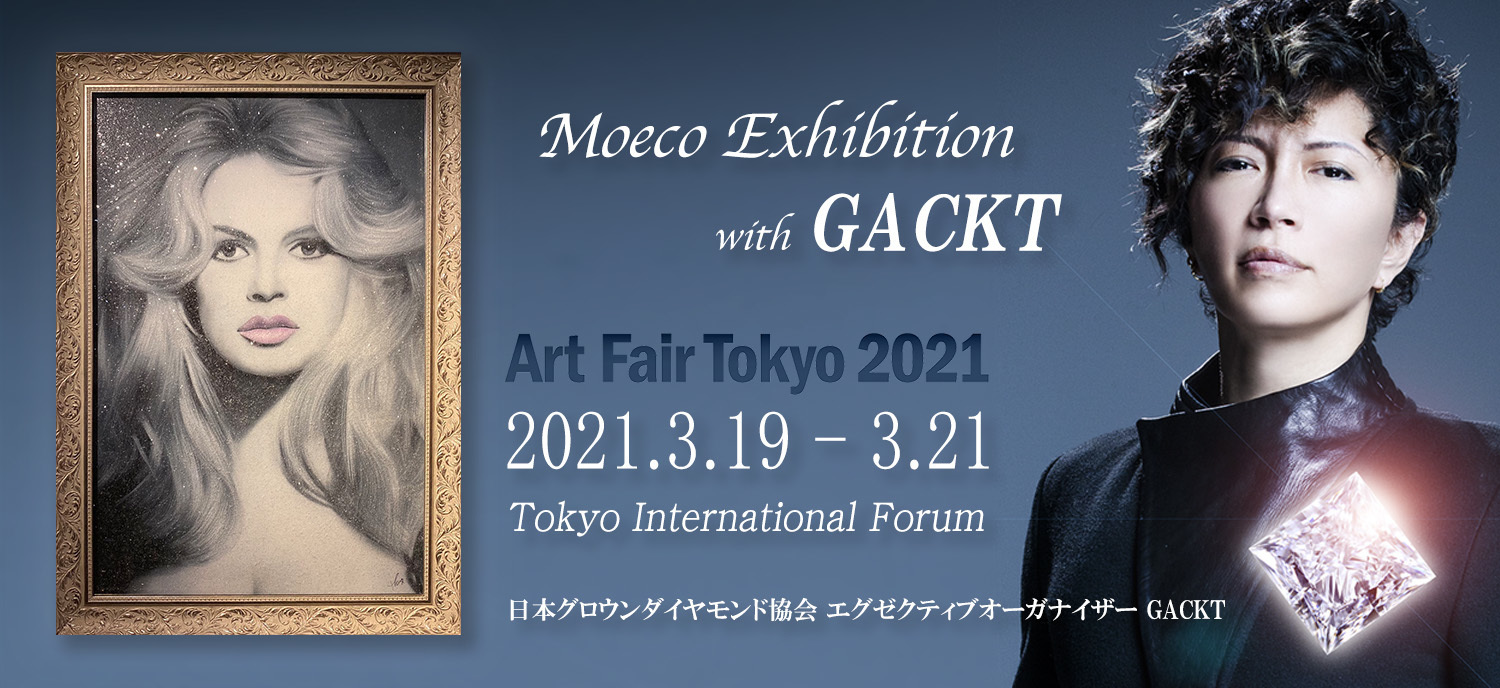 Moeco Exhibition with GACKT
The world of chalk art created by Moeco for Art Fair Tokyo 2021.
This time, a new collaboration work is featuring the artist GACKT, the executive organizer of Lab-grown Diamonds used for painting, have been added to express a new world view.
Art Fair Tokyo 2021
https://artfairtokyo.com/
Date and Time:
* March 18th (Thu) by invitation only
Press Viewing
March 18, 2021 (Thu) 1:00pm – 2:00pm
Private Viewing
March 18, 2021 (Thu)2:00pm – 4:00pm
Vernissage
March 18, 2021 (Thu) 4:00pm – 8:00pm
Public Viewing
March 19, 2021 (Fri) 12:00 – 7:00pm
March 20, 2021 (Sat) 12:00 – 7:00pm
March 21, 2021 (Sun) 12:00 – 4:00pm
Tokyo International Forum
3-5-1 Marunouchi, Chiyoda-ku, Tokyo
B1F Lobby Gallery C003
Gallery Olim
* Please note that this is a different place from the lobby gallery on the 2nd basement floor of the main venue.
Admission Fee
Advance reservations, admission fees, tickets, etc. are NOT required.
Collaboration works with GACKT will be sold at the auction before and after the Art Fair Tokyo 2021.
Details about bidding method and bidding period will be announced later on GACKT.com NEWS.
About Chalk Artist Moeco
Born in Kobe, Hyogo Prefecture in 1982.
In 1997, she won the Multimedia Award at the 7th All Japan National Bishoujo Contest. Since then, she has been active as a singer, actress and talent.
She studied languages, singing and art abroad in NY from 2012 to 2013. She made her debut as a chalk artist under the name "Moeco" in September 2013, and has exhibited her work in Japan, South Korea, and the United States. With her versatile talents, she is now attracting worldwide attention.
https://ja.wikipedia.org/wiki/Moeco

About Lab-grown Diamonds
Lab-grown diamonds are genuine diamonds that have exactly the same physical attributes as nature-grown diamonds. In a facility that recreates the growth environment of nature-grown diamonds, technology has made it possible to grow them in a same way. Since humans control the growth environment of the crystals, lab-grown diamonds can be grown as crystals that do not contain any impurities. They are called Type 2 and are rare and beautiful diamonds that are found in less than 2% of natural diamonds. Therefore, with this new technology, lab-grown diamonds are expected to take over most of the Japanese diamond market.
About collaboration with GACKT
The Japan Grown Diamond Association was established for the purpose of developing the Japanese market, promoting knowledge of the industry, and improving distribution of lab-grown diamonds, which are expanding across the world market. In this exhibition, GACKT, who became the executive organizer of the Japan Grown Diamond Association on July 1, 2019, has a goal of making lab-grown diamonds widely known to a wide range of people through chalk art.
Contact Us
Gallery Olim Co., Ltd.
info@galleryolym.com