Online Birthday Party Special Guest Announcement!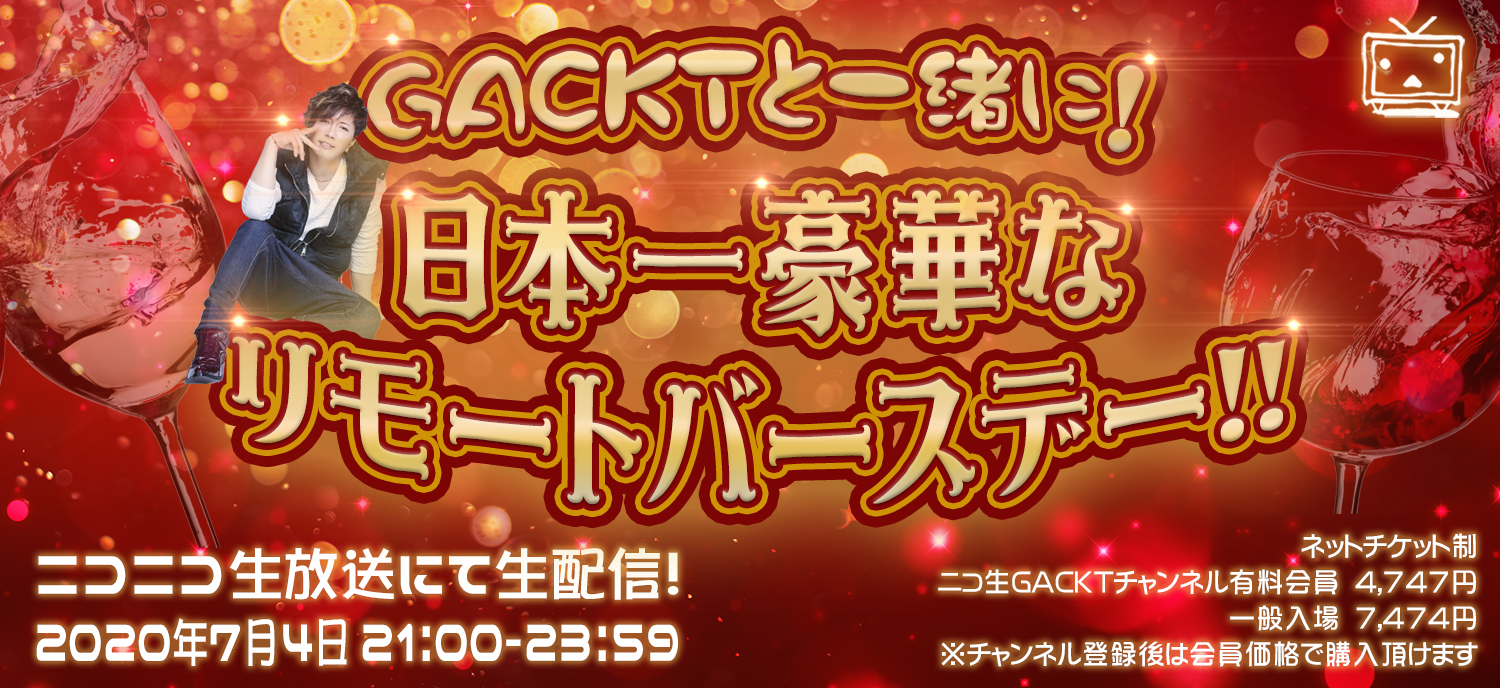 GACKT will celebrate his 47th birthday on July 4th.
The first ever birthday party to be aired online "Together with GACKT! The Most Extravagant Online Birthday Celebration in Japan!!"
Celebratory relay system that connects all the guests in close contact with GACKT!
Super extravagant guests who can only be there cause it's online!
Let's celebrate GACKT with these special guests!
The guest list is being filled up every second. Here are some guests who are already on the list:
Aikawa Nanase/ Appearance
Antokino Inoki/ Appearance
Masahiro Inoue/ Video Message
Kōki Kameda/ Appearance
Kyaeen/ Appearance
Kazuaki Kiriya/ Appearance
Sho Kiryuin/ Appearance
Banjō Ginga/ Voice Message
Korokke/ Appearance
Shinobu Sakagami/ Appearance
Jushin Liger/ Video Message
Shinya(DIR EN GREY/ Appearance
Tsukasa Saito/ Video Message
Akira Nakao/ Video Message
HYDE/ Video Message
Hiro(MY FIRST STORY)/ Video Message
Buronson/ Mail Message
Kanata Hongō / Video Message
Mentalist DaiGo / Appearance
LiSA / Video Message
Akiko Wada/ Video Message
※ There are so many more of unannounced surprise guests and video comments!
Don't miss it!
——
NicoNico Live GACKT Channel
Broadcast Date & Time: July 4th, 2020 (Sat)
9:00pm ~ 11:59pm (JST)
"Together with GACKT! The Most Extravagant Online Birthday Celebration in Japan!!"
https://live2.nicovideo.jp/watch/lv326484475
Online Tickets:
NicoLive GACKT Channel
Member Price: 4,747yen
General Admission Price: 7,474 yen
※ After signing up for the channel, you can purchase online ticket at the membership price.
Check out the URL below to see how to purchase online tickets:
https://qa.nicovideo.jp/faq/show/662?site_domain=channel
Cast:
GACKT
TAKUMI
Special Guests
※ You can watch the entire live broadcast on this page.
※ Program broadcast may be subject to sudden changes in time or date due to unforeseen circumstances such as the network signal.
※ Please note that quality of audio and video is sometimes effected during online broadcasts.
※ The length of broadcast time is subject to change (from original 179 minutes).