LAST VISUALIVE is Added to All the Previous Concert Videos!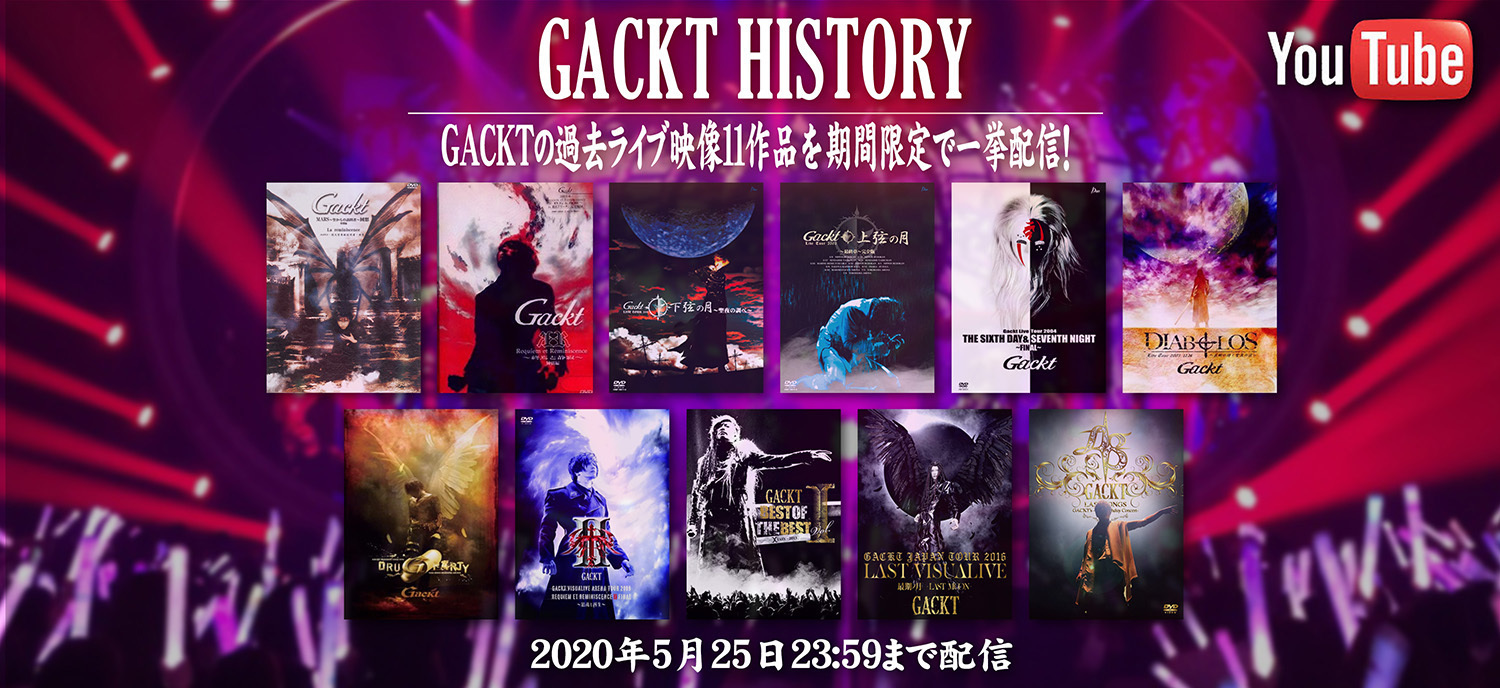 LAST VISUALIVE 2016 has been added to all the rest of GACKT's previous concert videos starting today!
https://youtu.be/ucRNHKE2G1s
All the previous concert videos will be available to watch till 11:59pm (JST) on May 25th!
GAKUCHAN GACKT official YouTube
https://www.youtube.com/c/gackt
GACKT LIVE TOUR 2000 MARS Sora Kara No Houmonsha (Visitor from the Sky)
GACKT LIVE TOUR 2001 REQUIEM ET REMINISCENCE Chinkon to Saisei (Requiem and Rebirth)
GACKT TOUR 2002 Kagen no Tsuki (Waning Moon)
GACKT TOUR 2003 Jougen no Tsuki (Waxing Moon)
GACKT LIVE TOUR 2004 THE SIXTH DAY & SEVENTH NIGHT
GACKT LIVE TOUR 2005 DIABOLOS Aien no Uta (Song of Lament)
GACKT TRAINING DAYS 2006 DRUG PARTY
GACKT VISUALIVE ARENA TOUR 2009 REQUIEM ET REMINISCENCE II
GACKT LIVE TOUR 2013 BEST OF THE BEST VOL.1 XTASY
GACKT WORLD TOUR 2016 LAST VISUALIVE Saigo no Tsuki -LAST MOON-
GACKT's -45th Birthday Concert- LAST SONGS
And don't forget to check out the WOWOW broadcast of the latest tour GACKT 20th ANNIVERSARY LIVE TOUR 2020 "KHAOS"!
GACKT 20th ANNIVERSARY WOWOW SPECIAL
Repeat broadcast starts May 14th (Thu) at 8:00pm (JST)!