The First Cover of GACKT × TAKUMI in the Music Magazine "Player" to be Released on 4/2! KHAOS Report!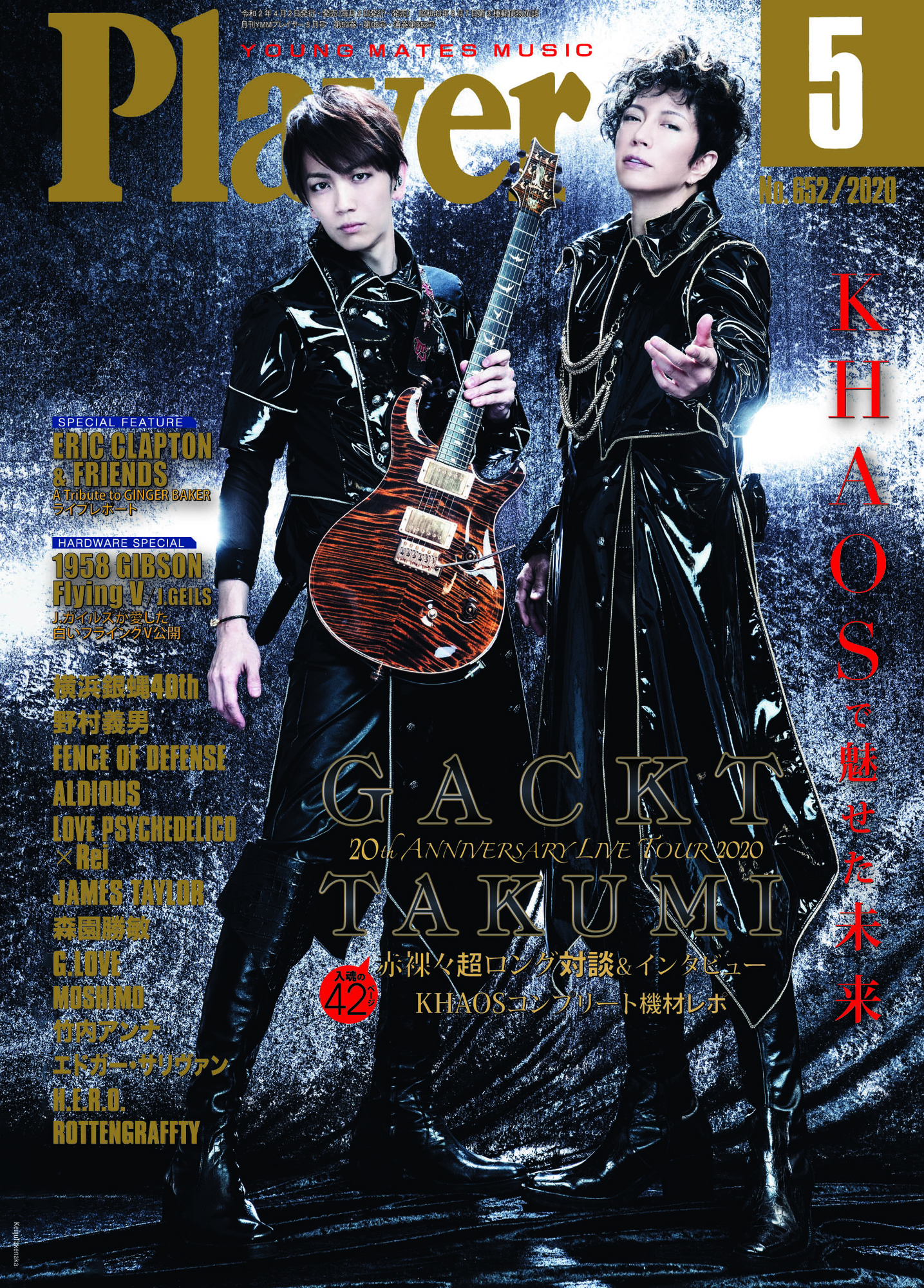 GACKT × TAKUMI on the cover music magazine "Player" for the first time!
The mesmerizing future brought by 20th ANNIVERSARY LIVE TOUR 2020 "KHAOS"
GACKT × TAKUMI Interview / Exclusive Coverage of "KHAOS" Tour & Complete Equipment Report.
GACKT's national tour "KHAOS" in celebration of his 20th anniversary solo debut.
It is a production that transcends the audience's expectations from the start, the formation dance that evolves violently and beautifully, the outstanding performance of the band members who choreograph each of their movements, the stage set that incorporates a variety of lighting and video programming creating something that is so much more than just a usual rock concert.
Impressive coordinated teamwork including that of staff members who challenged themselves to create the perfect show. "KHAOS" tour that challenged physical limits of the new band members and dancers every night.
GACKT has been giving us a glimpse at the future with the 20th anniversary of solo tour. This issue features the long interview covering all the GACKT-isms of the tour with both GACKT, the band leader, and the sound producer TAKUMI. Also included, the solo interview with TAKUMI, and a detailed coverage of all the instruments used on the "KHAOS" tour.
Including the special photo cards and the centerfold page, there is a total of 40 pages!
#1 GACKT × TAKUMI Exposed Super Long Interview
#2『KHAOS』GEAR REPORT---GACKT
#3 TAKUMI Solo Interview
#4『KHAOS』Complete Equipment Report TAKUMI, OTOME, DAICHI, TKC
Published: April 2nd (Thu) Release
Player April 2020 Issue
List price: 1,650 yen (unit price 1,500 yen) A4 size
Please make your reservations at bookstores and music instrument stores nationwide.
For more info click below: