Important Announcement from GACKT regarding the Postponement of Fukuoka Shows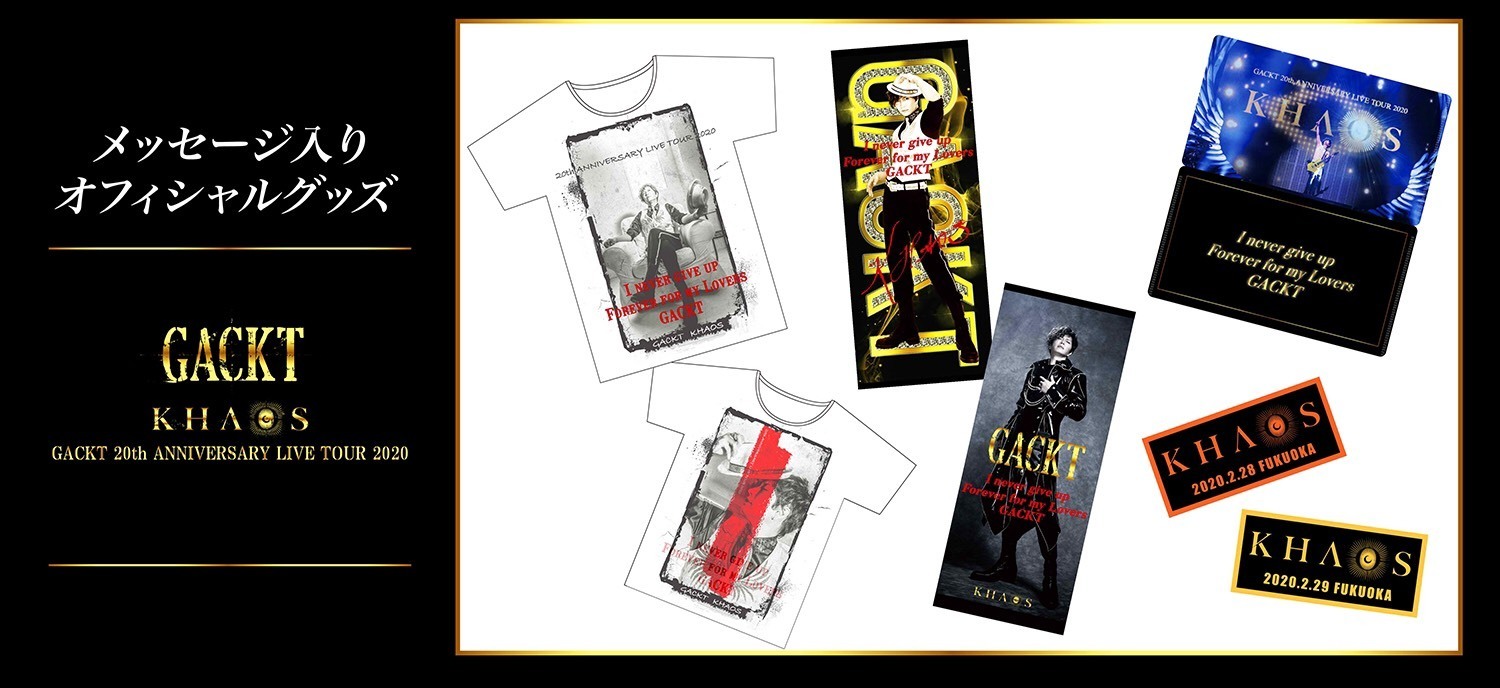 Due to the insistent request by the Japanese government, the tour finale and Fukuoka shows have been postponed this time.
I do believe it's the right decision, because safety of all the fans should be a priority.
By the way, the new official merchandise with a message from me is available now. Hold on to it while waiting for our reunion.
And so, until we meet again.
GACKT
For all the fans lll
The new schedule for the postponed Fukuoka performances will be announced soon. We are also considering additional shows for KHAOS TOUR.
Due to cancellation of the Fukuoka shows, we will be accepting mail-orders for the limited edition items that were originally supposed to be sold at the venue.
New items will also be added to official merchandise line-up.
<New Items>
Mask Case ~MESSAGE VER~:1000yen
PHOTO T-shirt <TYPE.A> ~MESSAGE VER~:4500yen
PHOTO T-shirt <TYPE.B> ~MESSAGE VER~:4500yen
Visual Face Towel <TYPE.A> ~MESSAGE VER~:3000yen
Visual Face Towel <TYPE.B> ~MESSAGE VER~:3000yen
<Limited Edition Venue Items>
Capsule GACHA: 500yen
Venue-limited Patches(Fukuoka Edition): 500yen
Special Mail-order Reservation Period:
March 7th (Sat) 6:00pm (JST) - March 15th (Sun) 11:59pm (JST)
Deliveries will start at the beginning of April. "Gakucchi Sticker" will be included as a special bonus with each Special Mail-order (one person) at the time of delivery.
One Original Shopping Bag, originally a venue purchase bonus, will be included with every 12,000 yen purchase.
Purchases at 6,000 yen will get 50% off shipping and purchases at 8,000 yen or more will get free shipping.
Customers who have chosen to pick-up their purchases at venue will be instructed by a separate email sent out on Thursday, February 27th.
We apologize for any inconvenience and appreciate your understanding and cooperation.
Click below for GACKT OFFICIAL GOODS STORE:
https://official-goods-store.jp/gackt/