"95th CAMUI♂G School de Tobina Festival" Pre-show Information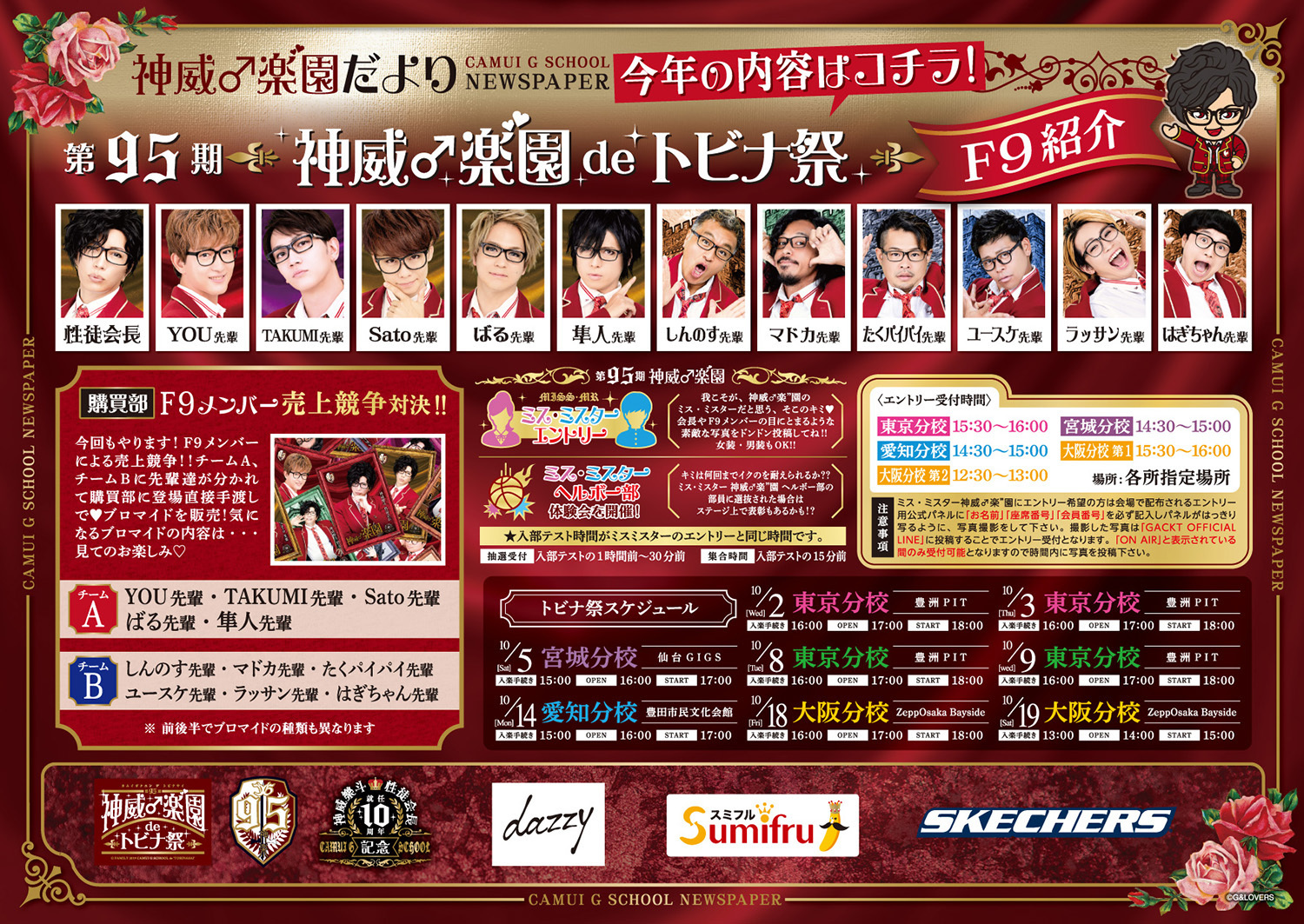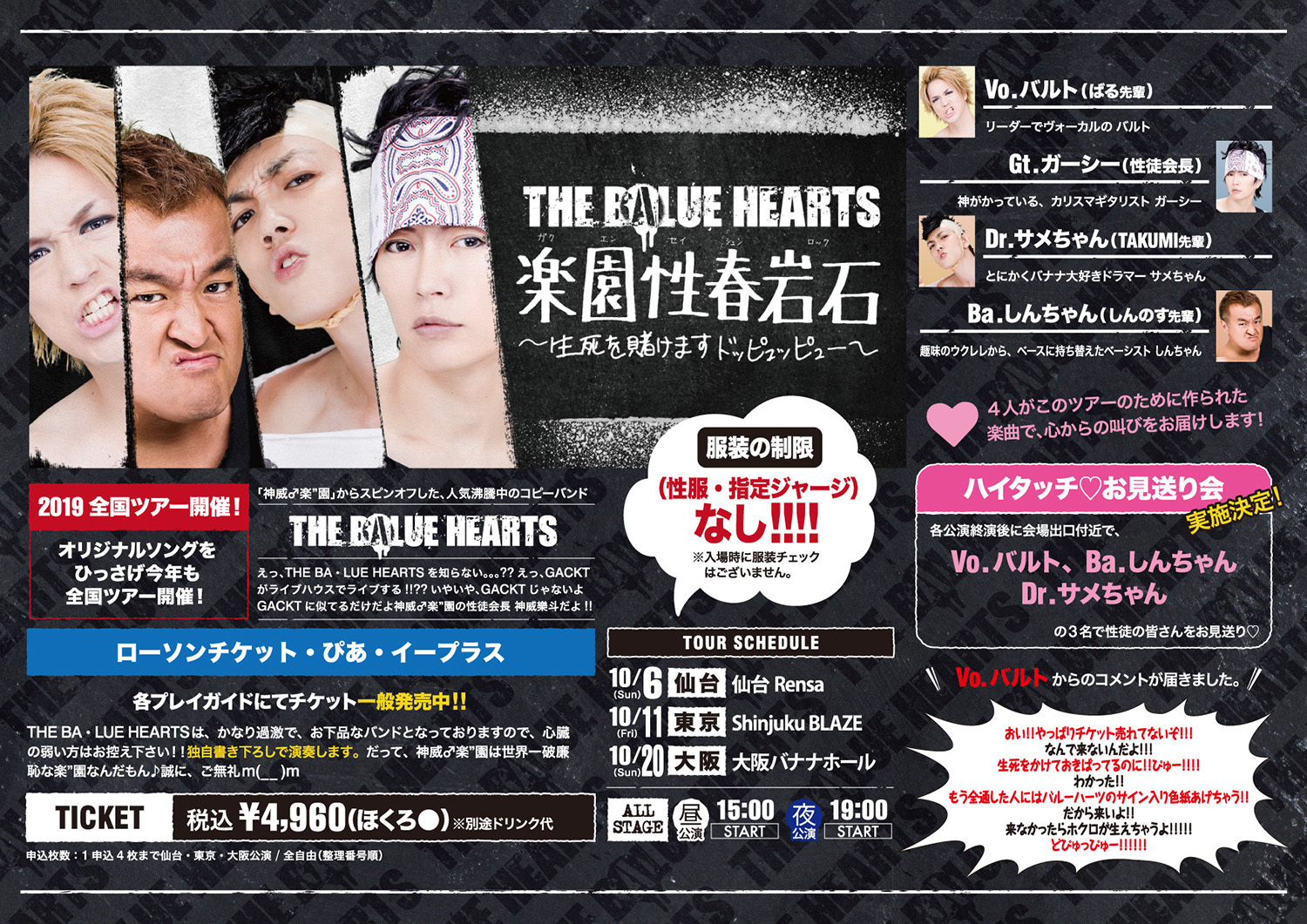 Good day〜!
This is an announcement from the executive committee〜♥
Just two more days left before the school festival!
All attendees are required to wear school uniforms before entering the venue!
Students, be careful not to forget your membership cards and photo IDs.
Same-day ticket sales will be available at each performance!They will be sold during the admissions. ※ Please note that same-day tickets might get sold out at some venues depending on the show.
Did you get your hearts ready〜?

【95th CAMUI♂G School de Tobina Festival Schedule】
October 2nd (Wed) Tokyo Branch: Toyosu PIT
SCHOOL STORE OPEN: 1:00pm ADMISSION: 4:00pm/ OPEN: 5:00pm/ START: 6:00pm
October 3rd (Thu) Tokyo Branch: Toyosu PIT
SCHOOL STORE OPEN: 1:00pm/ ADMISSION: 4:00pm/ OPEN: 5:00pm/ START: 6:00pm
October 5th (Sat) Miyagi Branch: Sendai GIGS SCHOOL STORE OPEN: 12:00pm/ ADMISSION: 3:00pm(JST)/ OPEN: 4:00pm(JST)/ START: 5:00pm(JST)
October 8th (Tue)Tokyo Branch: Toyosu PIT
SCHOOL STORE OPEN: 1:00pm/ ADMISSION: 4:00pm/ OPEN: 5:00pm/ START: 6:00pm
October 9th (Wed) Tokyo Branch: Toyosu PIT
SCHOOL STORE OPEN: 1:00pm/ ADMISSION: 4:00pm/ OPEN: 5:00pm/ START: 6:00pm
October 14th (Mon/Hol) Aichi Branch: Toyota City Cultural Hall
SCHOOL STORE OPEN: 12:00pm/ ADMISSION: 3:00 pm(JST)/ OPEN: 4:00pm(JST)/ START: 5:00pm(JST)
October 18th (Fri) Osaka Branch: ZeppOsaka Bayside
SCHOOL STORE OPEN: 1:00pm/ ADMISSION: 4:00pm/ OPEN: 5:00pm/ START: 6:00pm
October 19th (Sat) Osaka Branch: ZeppOsaka Bayside
SCHOOL STORE OPEN: 11:00am
ADMISSION: 1:00pm(JST)/ OPEN: 2:00pm(JST)/ START: 15:00pm(JST)
【Tobina Festival General Sale Now】
Ticket Pia
https://t.pia.jp/pia/artist/artists.do?artistsCd=11012902
LAWSON Ticket
https://l-tike.com/search/?keyword=GACKT
Eplus
https://eplus.jp/sf/search?block=true&keyword=GACKT

【10th Anniversary Special Project Stamp Rally】
◇https://gackt.com/contents/264728
Target Audience: Those who attend the performance (regardless of fan club membership)
Stamp Rally Paper will be distributed at the first show you come to see. If you are planning to participate in 2 performances or more, please bring it with you for each of those shows.
* Please put down your membership number and name on the cover.

【F9 Members Sales Competition Battle!】After you have completed the admission procedure you can participate!
Period: From Admission procedure to OPEN! For exact times please check the venue details.

【MISS & MISTER CAMUI♂G SCHOOL ENTRY】Entry Period Tokyo Branch: 3:30pm 〜 4:00pmMiyagi Branch: 2:30pm 〜 3:00pmAichi Branch: 2:30pm 〜 3:00pmOsaka Branch 1:3:30pm 〜 4:00pmOsaka Branch 2:12:30pm 〜 1:00pm
Place: Designated Location
To enter Miss & Mister CAMUI ♂G SCHOOL, you need to fill in your name, seat number, and membership number on the official entry panel distributed at the venue. Photos posted on to "GACKT OFFICIAL LINE" will be accepted for entry.
Please note! Your entries will only be accepted while "ON AIR" logo is displayed. Submit your photos on time!
【Hell Ball Club Admission Test】
Admission Time: Same time as Miss & Mister CAMUI ♂G SCHOOL
Drawing Time: 1 hour to 30 minutes before the admission test
Meeting Time: 15 minutes before the admission test
【95th CAMUI♂G School de Tobina Festival Special Site】
http://camuigschool.gackt.com/pages/camuig_lp
【Tickets / Registration Methods】
◇ Lawson Ticket Information 0570-000-777 (10:00am 〜 8:00pm)※ Cannot be accessed from some mobile phones, company-wide PHS / IP phones, or CATV phones. ※ Please allow some wait time before being connected with the operator.