A Special Voice Card Produced by GACKT is Out on "PUBG MOBILE"!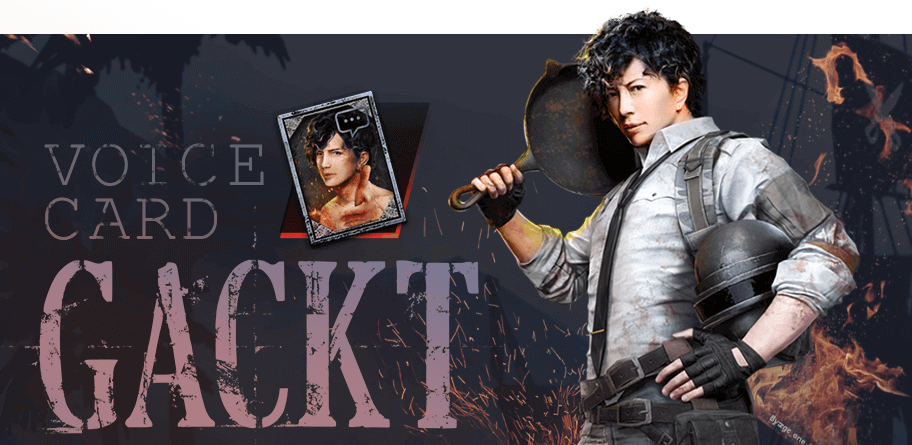 A special voice card produced by GACKT, the official ambassador for PUBG MOBILE, is out in the "PUBG MOBILE" game starting September 6th (Fri) 11:00am (JST).
Many exciting voice variations are included on the card, featuring never-before-heard special phrases and things GACKT often says during the gameplay.
Voice card "GACKT A" can be acquired at Traveler Crate on Friday, September 6th, 11:00am (JST) through Tuesday, September 24th, 10:59am (JST).
* For Japanese mobile game application ONLY
For more info, please check "PUBG MOBILE" Japan Official Twitter:
https://twitter.com/PUBGMOBILE_JP
"PUBG MOBILE" is a battle royal type of a game where up to 100 players fight to survive, using the items scattered on the map, until only "one" of them is left alive. Players will compete for survival by using weapons, vehicles, and equipment items that are randomly scattered in a limited safety zone.
Since the message of "Katta! Katta! Yūhan wa Don Katsu da! !" ("Winner! Winner! Chicken Dinner!!") is displayed on the screen of the "one" player who survived, that player fights for "Don Katsu".
This service was launched in Japan on May 16th, 2018 (Wed), and has already reached over 400 million downloads worldwide.
(* Statistics calculated by App Annie)